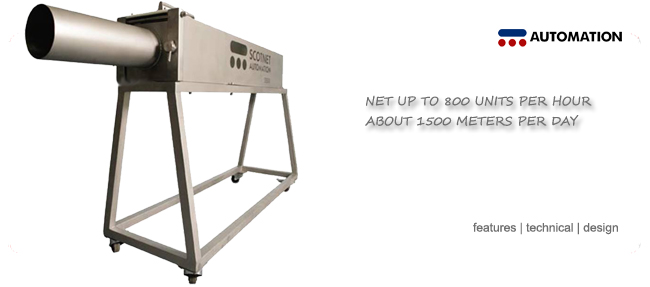 Product Features

No Electrics
Simple all pneumatic operation

Cam Lock Tube Location
Our unique cam lock tube location system securely locates even bent tube bases.

Nylon Pistons
Nylon Pistons, light, robust and easy to clean and change.

Tube Sizes
Works with standard 460mm ScotNet Tubes. minimise investment by keeping your existing loader and tubes.

Bench Mounted
Bench Mounted as standard, optional floor stand.

Braked Castors
Braked Castors on optional floor stand ensuring secure footing while working and easy movement when required.
Technical Specs

All Tube Sizes Loaded
Available in sizes to fit all tubes from 80mm (4") to 200mm (8")

Weight
Approx 100kg

Speed
Cycles over 800 times per hour. Achieved production will depend on the operators, and the products.

Packing Crate Dimensions
Length 1800mm
Width 760mm
Height 1460mm

Machine Dimensions
Width: 315mm
Height: 1200mm
Length: 2050mm

Supplies
Compresses Air: 5.5 BAR (80psi)
1320 litres (46 cubic feet) per min.
Design

Expert design
Designed specifically for loading elastic netting, by us.

Made from 316
All contact parts are made from 316 grade stainless steel, ideal for food contact

Made in Scotland
Made in Scotland in a computer controlled plant for guaranteed accuracy.

Prevent bacteria
Seamless welds, and stainless construction make sure the machines are easy to clean.

CE Marked
All our machines are CE marked, assuring you of their compliance with the latest safety standards

No Trap Points
CE approved gaps on all moving parts, nowhere to trap fingers.
© 2020, Scobies Direct, Scobie & Junor (Estd. 1919) Ltd, 1 Singer Road, East Kilbride, Scotland, G75 0XS
Tel: 0800 783 7331 Fax: 01355 576343 e-mail: info@scobiesdirect.com